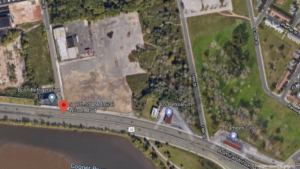 Matrix Development Group is planning to develop a proposed $20 million, 145,390-square-foot distribution center on speculation along Admiral Wilson Boulevard in Camden.
The project on roughly 30 acres at the intersection of South 17th Street and Admiral Wilson Boulevard could potentially produce upwards of 350 to 400 jobs and provide a boost to a beleaguered section of the South Jersey city.
"For us, what is important here, is it is the redevelopment of an industrial area that has long been dormant," said Kris Kolluri, CEO of Cooper's Ferry Partnership. "To be able to advance a hotel and an e-commerce facility in the middle of a pandemic is a great opportunity to really focus on residents and jobs for them."
A newly constructed 180-room Hilton Garden Inn on the waterfront officially opened this week and is part of a bigger effort to revitalize an area along the Delaware River in Camden.
While the Camden waterfront has been the focus over the last decade for economic development officials, the location of the proposed distribution facility is an area of the city that got a jolt a few years ago with a new headquarters for ResinTech Inc. and Subaru Inc. but has seen little economic development activity since then.
One potentially transformative project planned for the site was scuttled. In 2013, Goldenberg Group, a developer based in Blue Bell, proposed a new 166,000-square-foot shopping center on land where Matrix is planning the distribution facility. Called Admiral Wilson Plaza, it was going to be anchored by a 75,000-square-foot ShopRite supermarket, bringing for the first time in three decades a full-service grocery store back to Camden. The Ravitz family was going to operate it.
A Costco and Trader Joe's eventually opened in nearby Cherry Hill and a PriceRite, which is part of Wakefern Food Corp.'s grocery brands such as ShopRite, opened in Camden. It was determined the market wasn't deep enough to accommodate another grocery store and Goldenberg never moved forward with the center.
Goldenberg still controls the property and its development rights. Matrix will eventually buy those rights and the agreements Goldenberg has with various city agencies.
While Matrix has developed everything from office and residential projects, its main focus has been building warehouse-distribution centers in New Jersey, Pennsylvania and along the East Coast. Matrix developed a 1-million-square-foot warehouse for Amazon.com Inc. on the border of Burlington Township and Burlington City that opened last year.
The company has looked over the years for opportunities before in Camden but nothing materialized.
"We have certainly had an interest in developing in Camden," said Joseph Taylor, CEO of Matrix, which is based about an hour north of Camden in Monroe Township. "We tried to find sites that made sense."
The rise of e-commerce and demand for last-mile distribution centers, or Taylor calls "delivery stations," Camden is ripe for this type of development. "It has a great labor pool and great access," he said.
Matrix will not seek any tax or other financial incentives for the project, underscoring its commitment to Camden and prospect of landing a tenant. "I don't know the last time a speculative development was done without tax credits in Camden," Taylor said. "As a company, we are privately owned and we're using private equity. That doesn't happen too often in Camden. This is a total sign of confidence we can build it and bring someone there."
Matrix is working through the approval process and anticipates that could be finalized by the middle of 2021, paving the way for the project to then get under construction.
Between 100 and 200 construction jobs are also expected to be created into addition to the full-time warehouse positions.
"It's a shot in the arm for Camden," said Camden Mayor Frank Moran. "The initial focus had been waterfront, waterfront, waterfront. Now, we're realizing other development and opportunities for residents. There is a community just north of Admiral Wilson Boulevard that stands to benefit from this."
*Article courtesy of Philadelphia Business Journal
For more information about South Jersey industrial space for sale or lease in South Jersey or about any other South Jersey properties for sale or lease, please contact WCRE at 856-857-6300.
Wolf Commercial Real Estate, a full-service CORFAC International brokerage and advisory firm, is a premier South Jersey commercial real estate broker that provides a full range of South Jersey commercial real estate listings and services, property management services, and marketing commercial offices, medical properties, industrial properties, land properties, retail buildings and other South Jersey commercial properties for buyers, tenants, investors and sellers.
Please visit our websites for a full listing of South Jersey commercial properties for lease or sale through our South Jersey commercial real estate brokerage firm.