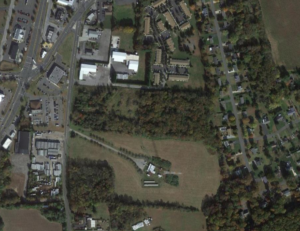 Wolf Commercial Real Estate, the leading commercial real estate and advisory firm in South Jersey has been appointed the exclusive listing agent for 1771 S. Burlington Road and it's neighbor, 1779 S. Burlington Road in Bridgeton. The Bridgeton property is available for sale.1771 S. Burlington is situated on +/- 20 acres of land, while 1779 S. Burlington Road is situated on 11.65 acres. Both zoned General Industry/Industrial.

Features of 1771 & 1779 S. Burlington Road in Bridgeton, New Jersey

Both 1771 and 1779 South Burlington Road are eligible for five (5) year tax abatements.

The land is ideal for developers. Each property is only 9 miles from Route 55 and has various national neighbors like Lassonde, Perdue and Americold.

For more information about the lease price or a tour of the industrial space, please contact Ryan Barikian, Vice President, at (856) 383-5355 or via email ryan.barikian@wolfcre.com.

Wolf Commercial Real Estate is a full-service CRE brokerage and advisory firm with a full range of commercial real estate listings and services. The firm handles a variety of properties including medical, office, industrial, retail and investment. WCRE represents buyers, landlords, investors, tenants and sellers and also provides property management services. For a full list of buildings and suites that are available for sale or lease, visit www.wolfcre.com.