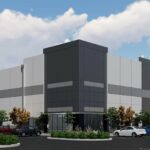 Meal-delivery service Freshly is expanding again, with plans to open a second distribution center in New Jersey and relocate its New York City headquarters, which will more than quadruple its footprint in Manhattan.
Freshly, a leading provider of fresh prepared meals, said Monday it had signed a lease for an assembly and logistics hub at 450 Swedesboro Ave. in the Mickleton section of East Greenwich in Gloucester County, New Jersey. At 234,000 square feet, the site will be Freshly's largest distribution center, equipped to assemble and ship 1.6 million meals a week at peak capacity.
The company, which was acquired by Nestlé USA in October, is also moving and expanding its New York headquarters. It will leave its current office at 115 E. 23rd St., where it occupies about 20,000 square feet, after signing a lease for 92,306 square feet at 28 E. 28th St., according to a Freshly spokeswoman. The company will move when a full build-out of its new space is completed, she said.
Freshly, a weekly subscription service delivering chef-cooked meals directly to customers' doors, has been on a growth spree. Food delivery has become an increasingly important option for consumers during the pandemic, when indoor dining was temporarily banned at restaurants and some people feared leaving their homes because of COVID-19. Freshly is one of the top players in the sector, with competitors that include Blue Apron, EveryPlate, Gobble and Hello Fresh.
In the past few months, Freshly opened new facilities at 4000 Noakes St. in Commerce, California, and 7895 Third Flag Parkway in Austell, Georgia, to increase production and order-fulfillment capacity. Freshly leases 111,260 square feet in the new California facility and 134,164 square feet at the new Georgia site.
Currently, Freshly ships more than 1 million meals a week to customers in 48 states.
Growing Customer Demand
The South Jersey distribution facility is slated to be operational by February next year and "will help Freshly meet growing customer demand, reduce the order-to-delivery cycle time to consumers, and ultimately create 340 incremental jobs in the area," the company said in its statement.
Freshly will continue to operate its facility at 1501 W. Blancke St. in Linden, New Jersey, where it employs 70 people.
"With Freshly's corporate headquarters located in New York City, we're excited to expand our footprint in the region and continue our growth in the Garden State," Freshly founder and CEO Mike Wystrach said in a statement.
"The addition of a new facility of this size will bring hundreds of new jobs to East Greenwich and allow us to significantly scale our meal production to move us closer to the goal of being in every household in America," he said. "We are thankful for our partnership with Gov. Murphy and his team for their leadership in assisting us with this significant expansion of our company."
Freshly also has operations in Phoenix, Arizona, and Savage, Maryland.
"South Jersey is the perfect place for a leading provider of fresh, healthy prepared meals to open another facility," Murphy said in a statement. "We have seen how important food-delivery services have become during the COVID-19 pandemic, and we look forward to working with Freshly to support its growth, as well as bring new jobs to the region."
For more information about South Jersey industrial space for sale or lease in South Jersey or about any other South Jersey properties for sale or lease, please contact WCRE at 856-857-6300.
Wolf Commercial Real Estate, a full-service CORFAC International brokerage and advisory firm, is a premier South Jersey commercial real estate broker that provides a full range of South Jersey commercial real estate listings and services, property management services, and marketing commercial offices, medical properties, industrial properties, land properties, retail buildings and other South Jersey commercial properties for buyers, tenants, investors and sellers.
Please visit our websites for a full listing of South Jersey commercial properties for lease or sale through our South Jersey commercial real estate brokerage firm.